Dear Community,
I have a question related to the processing that can be performed to .step files through Cubit.
In particular, continuing the discussion of an older topic, I am not sure if the discontinuities in my model XY plane cut section (see attached screenshot)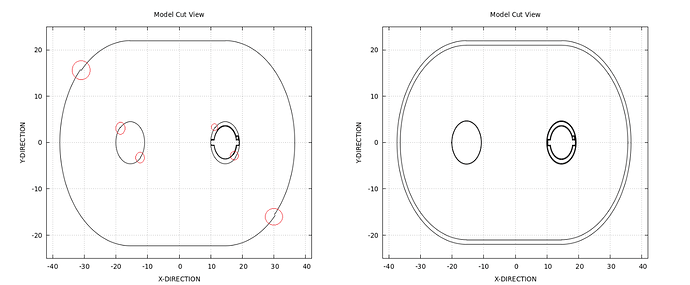 were eliminated because I reduced the faceting and merge tolerance parameters or because I performed a boolean operation in the 2 exterior volumes of my model in order to separate them.
It is strange because the thickness of the exterior walls of my model is only a few [mm] and the tolerance parameters are several orders of magnitude smaller than this thickness. In the screenshot above it seems that the inner and outer curves of some volumes have been imprinted & merged to a single curve which is discontinuous (notice the circled areas).
Could these discontinuities be justified by the fact that the outer volume (i.e. the 'cryostat', see linked topic) is not categorized as a closed volume by cubit, when I imported my .step file?
Thank you,
Nikos.