Dear Coreform community,
I hope everyone is doing well. I have a curved model as shown below. It consists of 4 volumes. The model has been generated on Solidworks by means of bending operation on the initially straight version of this model. However, due to bending, the volumes are having gaps/overlaps due to which meshing is difficult.
I can redo the CAD model by other methods, however, I wish to ask if it is possible to mend this model in Cubit itself & thereon obtain a uniform HEX mesh ?
I would highly appreciate if it were possible to do so! This image won't be so helpful therefore I'm also sharing the STEP file for simplicity.
curved_version.STEP (1.5 MB)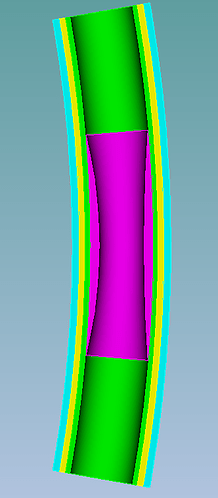 With profound regards


Aakash