Hello,
I'm trying to create a cylinder with two volumes: one that is a relatively thin shell but only for a specified arc length at the surface of the cylinder and some distance within it and the other volume being the remainder of the cylinder. To give you an idea of what I'm going for here is a top view of what I would like to accomplish: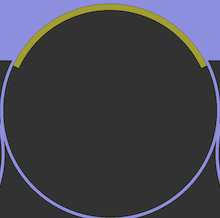 As an example, let's try this with a cylinder of height 10 and radius 2 with an arc shell of a total of 100 degrees and thickness 0.2
My approach so far involves creating a cylinder, making new vertices based upon the one defining one of the cylinder's circular surfaces, then using those to define the outer arc curve:
create cylinder height 10 radius 2
create vertex on curve 2 fraction 0.388888889
create vertex on curve 2 fraction 0.25
create vertex on curve 2 fraction 0.1111111111
create curve arc three vertex 5 4 3

So now I have Curve 3, a free curve which I believe I should then copy and transform into a curve of the same arc angles but radius of 1.8 to then use to define a surface which I can then sweep through the length of the cylinder to then copy and use one of these volumes to remove that material from the original cylinder volume. I try to copy and transform the copy, but I can't seem to find the curve after the transformation operation, so I don't know if it is doing what I need it to do… What should I do to replicate the geometry regions in the attached picture?
Some questions: Is this the approach you would take? Is there a more efficient way to accomplish what I want to do? Am I even thinking of this correctly?
Any help would be greatly appreciated!